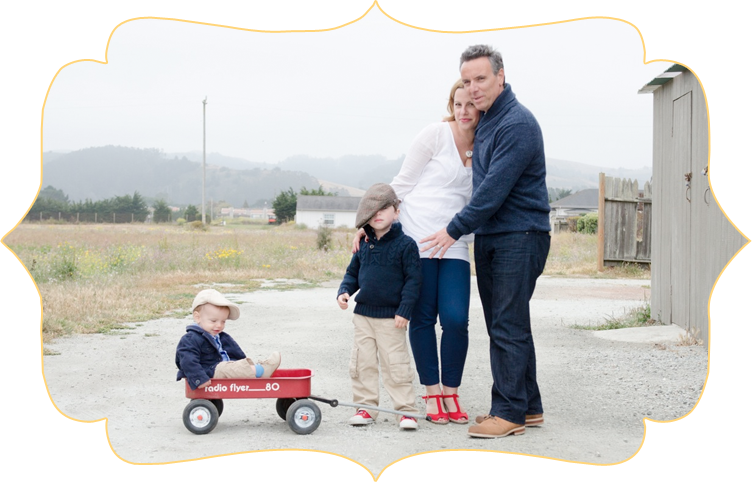 Warning:  We only tell the truth about motherhood here.  We are not shiny and perfect.  We aren't Pinterest-y, but I like to fake it every once in a while.  I can't cook.  But what our little family lacks in organization and culinary ability, we make up for with a lot of love.  And laughter.  And dance parties.  And I make a mean peanut butter and jelly sandwich.
I'm not your average "Mommy Blogger".  You've been warned.  I talk about the realities and emotions behind breastfeeding and formula-feeding.  I don't hide the fact that I have experienced postpartum depression and anxiety.  I feel strongly about the responsibility that we have to take care of each other, and to be kind.  It's important to me that you know you are not alone on this journey.
I'm the mom of two boys, which means that the Legos have won.  My curious, active, brilliant Max is six years old.  My adorable, busy, hilarious baby Ben is two.  We live in the San Francisco Bay Area, on the very edge of the left coast.  We parent a little left of center.  That means that I am an attachment-parenting, baby-wearing, meat-eating, non-recycling, disposable-diapering, breastfeeder but used to be a formula-feeder, Democrat married to a Republican.  Yes, we are exactly like Mary Matalin and James Carville.  Exactly.  I write it out.
I am a featured blogger for The Huffington Post.  I have been published in Huffington Magazine and interviewed on HuffingtonPost Live, as well as other national and local radio programs.
My work has also been featured on Good Housekeeping, Cosmopolitan, Scary Mommy, MSNLiving, BlogHer, Yes! Magazine, Mamalode, Common Dreams, Kveller, xoJane, and more.
I am a co-author of the anthology Mothering Through The Darkness: Women Open Up About The Postpartum Experience, published by SheWrites Press in 2015.
I am one of the Co-Founders of the I Support You project.  I am honored to team with Suzanne Barston and Jamie Lynne Grumet to change the way we talk to moms about Infant Feeding, and provide non-judgmental emotional support and information to formula-feeding and breastfeeding moms.  In 2013, I Support You went viral, bringing encouragement and education to breastfeeding and formula-feeding parents nationwide.  Lisa Belkin and The Huffington Post teamed with us to launch our campaign.  I Support You was featured on MSN Living, ABC News, NY Daily News, Scary Mommy, and other national news outlets.
In addition to writing about family, my background in Social Work (working with families who have experienced domestic violence, trauma, sexual assault, and adoption) remains a huge part of my identity.  My writing often reflects social and political issues that I am passionate about, and I always welcome the opportunity to speak to new audiences.
I am available for freelance writing projects, speaking engagements, and other writing assignments.  I can be reached at MamaByTheBay (at) gmail (dot) com.
Photo by Blissful Bird Photography