"I'm 100% sure it's not Melanoma" the physician's assistant said, as Ben sat watching us from the corner chair of an ice cold examining room.  I shifted in my paper gown, trying to hide the rip that Ben had created when he slid off my lap as my exam began.  The PA laughed.  "Well, I should say 99%.  We're not ever supposed to say 100."
Ben dropped a goldfish cracker on the floor.
"Let's just do a little biopsy, to rule out a carcinoma." the PA said.  "It will be quick, and we'll know more in about two weeks.  If it's a basal cell carcinoma, then we remove it, and you'll be fine."
And then it was over.  They offered Ben a granola bar.  We went about our business.
I was so convinced that the little pink spot on my arm was nothing, that I promptly misplaced my worry about the biopsy.  I lost it somewhere in between making three different versions of breakfast for two little boys, searching for back-to-school pants that my three year old could pull down without peeing all over himself, and worrying about all of the other dozens of things that keep mothers up at night.
I had been too busy to go to the dermatologist.  I have fair skin and lots of moles and freckles, but I had seen a dermatologist 3 years ago who noted that all my spots were fine.  Just like my visit the year before that.  So when a tiny dark mole changed into a fleshy shade of pale pink, I made a mental note to find a new dermatologist in our new town.  And then I promptly misplaced the mental note.  I almost threw it away after comparing my little spot to the stomach-turning pictures that the women's magazines show every summer, for skin cancer awareness.  My little spot didn't look like those spots.  I must be fine.
So I left my worry on the bench at the park when I was pushing Bennie on the swing.  I may have tucked it in my purse when Sean and I went off on our date night.  I hid it under some flashcards while Max sounded out words at homework time, and kept putting it back on the "to do" list when I turned the page of my planner every week.
It was easy to misplace the worry over the biopsy, when I had tried so hard to forget the worry over my changing body, for all of these years. Besides….the PA was sure that it was nothing.
And then the phone rang.
The first words out of his mouth were "How long has that spot been there, Kim?".
It sounded almost accusatory, but I still didn't get it.
"Ummm…I don't know.  Forever?"
And then I started to panic.
"But it's only changed to this color over the past few months.  Or maybe a year?  Ish?  A year-ish?" I whispered, all in a single breath.
And then I finally sat down.
"It's Melanoma" he said.  The room started to spin.  It spun in the way that it spins right before you pass out.  When the corners of your vision get dark and wobbly, and the pounding in your ears grows from a single drummer to a really terrible parade of drummers.  A parade of drummers that is mixing with a blistering chorus of Yo Gabba Gabba coming from the other room.  Because your children are watching.  They're watching TV and watching your reactions and watching life unfold, all at the same time.
At some point I grabbed a note pad and pen.  At some point I realized that these were notes I could not misplace.
It's never a good sign when they ask if you can come back that very day for surgery.
I called Sean in a haze.  I called my mom in tears.  I sat next to the kids and let DJ Lance and his Gabba Gabba's try to drown out the drumming.  But it didn't.  It couldn't.  I had Melanoma, and Melanoma was Cancer.  Capital C, Cancer.
The PA had done a shave biopsy two weeks prior, which was the wrong kind of biopsy to do for a Melanoma.  But when I saw him, no one had thought it was a Melanoma.  It was a pale pink spot that I was too busy to get checked out.  A pale pink spot where Ben had rested his head every night as he nursed to sleep. A pale pink spot that Max had slowly brushed his fingers over when we read books together.  A pale pink spot that I had misplaced my worry about, because a mom of two little boys already has a very long list of things to worry about.
Now I needed to come in for surgery, because no one knew how deep or wide this tiny spot of cancer had grown.  Now that is a worry you can't misplace.
Was it everywhere?  The ache in my chest that I thought was from heartburn?  That must be my Melanoma.  The headaches and the fatigue that I thought were a symptom of mothering?  Perhaps they were a symptom of my Melanoma.  How was I to know?
When Sean came home, we fell into each other.  We made a plan.  We arranged for our beloved babysitter to watch the boys the next day. We wandered back in to the doctor's office after stumbling through a 24 hour earthquake of emotions that upended everything we thought was true and real.
When you come to the doctor's office after being diagnosed with a Melanoma that doesn't look like a Melanoma, and you don't know how long it's been there, or how long it's been misdiagnosed, they don't fuck around.  When you are a 38 year old mom of two little boys, who has no family history of Melanoma, they don't fuck around.  When your legs haven't seen sunlight since the early 90's, and you don't wear shorts, and you're always the one standing in the shade at backyard gatherings, they don't fuck around.
They shot up my arm with a local anesthetic, and then some more, and then some more.  The doctor came in and re-drew the pen lines sketched out on my arm, extending the margins until his blueprint foretold an incision that ran inches long and stretched from one side of my forearm to the other.
I turned my head.  Closed my eyes.
"I can still feel that." I squeaked.  And they numbed me some more.
I could smell toast burning.
Apparently they were cauterizing my insides as I bled.
This was a Wide Level Excision (WLE).  And they weren't fucking around.  They went deeper and wider than usual, because no one knew how deep or wide this went.
"Do you want to see it?" he asked, as he placed the last stitch.
"I probably should", I winced, and opened my eyes. (But close your eyes and scroll past this if you're squeamish, friends…)
My skin was angry and red and stitched back together with blue thread.  There was no misplacing the worry about this.  It was a worry that I would wear like a tattoo, a talisman, for as many days as I've been given.
The worry sat heavy on my chest as I tried to sit up, and my eyes blurred with sparkly stars.
The worry poured down my cheeks as I sobbed silently on Ben's bedroom floor that night, holding his hand through his crib as he fell asleep.
The worry whispered endless "what-ifs" as I watched Max walk into his new 2nd Grade classroom on the first day of school.
The worry seared itself into my brain as I frantically Googled phrases that had been a different language to me only days before.
The worry burned and stung as Sean lovingly changed my bandages and wrapped my arm in plastic so that I could shower.
The worry counted down the numbers, like a ticking clock, taunting me with the uncertainty of minutes lived and minutes yet to love.
This was a worry that I didn't know how to hold.
But they did.
My sweet boys were gentle with my "boo-boo arm". I tried my best to hide the fact that I was crying into their hair when we laid down together at night.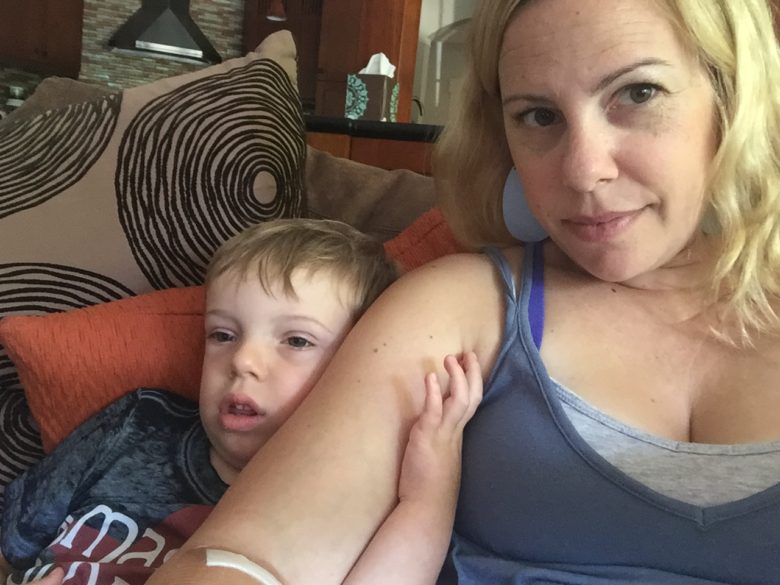 My once stoic and tough husband tapped into the perfect mix of empathy and compassion, crying with me, holding me up, and promising me that this season of life would set the bar for how much we could bear.
We didn't know what news to share with the world outside of our bubble, because we didn't have any news yet.
For nearly a week, we waited.  I fell asleep terrified, and woke up in a panic.  I thanked G-d for giving this to me, and not to my children.  We walked through the world like zombies, with no end and no beginning.  No solace until we would hear the news. We drew closer.  We found an inner core of love and connection that we had never needed to unearth, until now.  What a sweet relief it was to feel it's warmth.
And we waited.  We waited with no idea how to walk towards or research or share our new normal, because we didn't yet know what our new normal was.  We exhaled pain in text messages and whispered conversations with confidantes and friends and family.  I grimaced when I moved my arm too much, the throbbing pain of a healing incision a physical reminder of what it must feel like when your heart breaks open and the world closes in on you.
One day I was trying not to sob through a verse of Puff The Magic Dragon ("Dragons live forever, but not so little boys…" I mean, come ON?!), and the next day I was feeling pretty bad-ass that my arm had been cut open while I was awake.  But every day, every single hour of every single day, I was terrified that this would be how my story would end.
These words?  This space?  This life?  What if this was how it ended?
I wasn't ready yet.  And the thought of leaving my sweet, long-lashed, perfect little boys was too much to bear.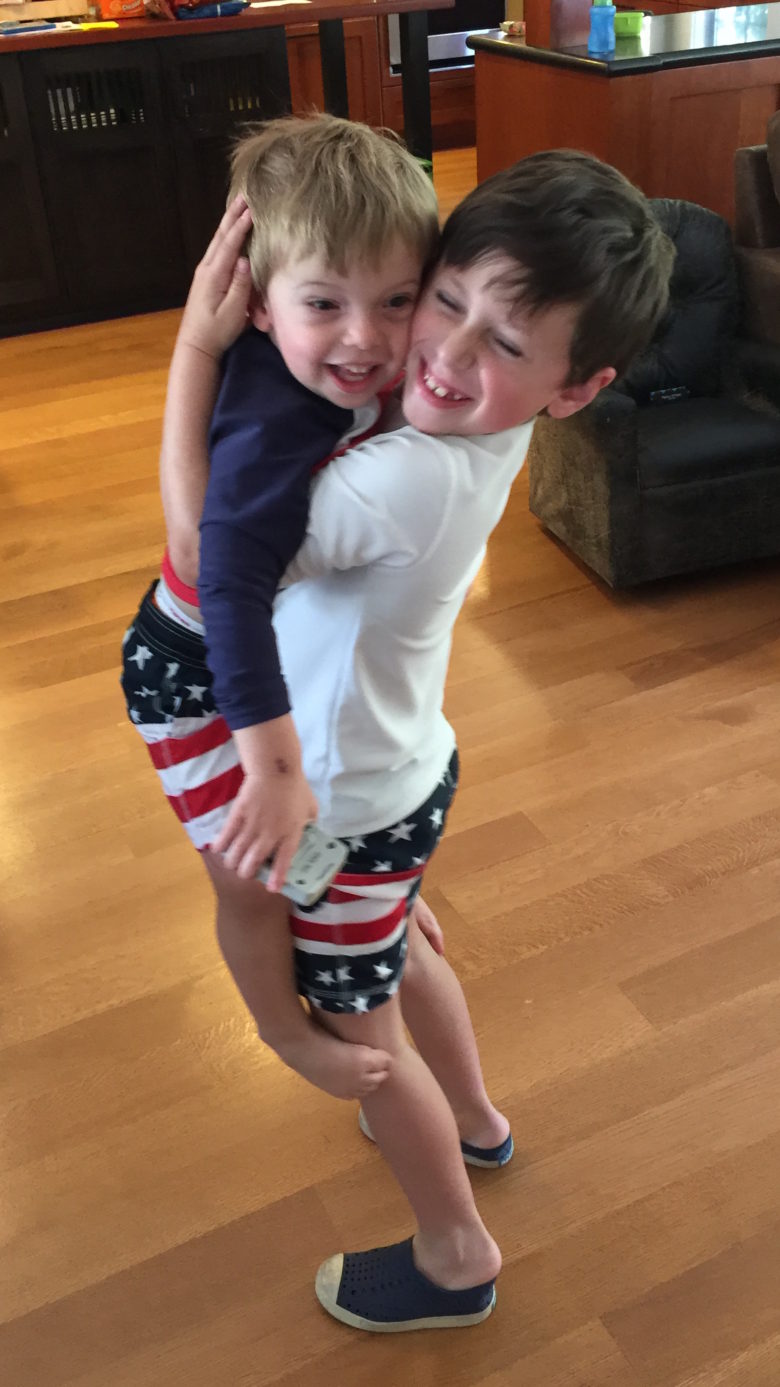 Nearly a week later, the phone rang.
"It's good news", the PA said.  "We got it all".
I grabbed the note pad and pen.
My Melanoma was .52 mm deep.  Anything under 1 mm has typically not yet spread to the lymph nodes.  It was growing, but they didn't think that it had found it's way to other parts of my body yet.  The margins were clear.  My margins were clear.
And so it begins.  The new normal.
I have Melanoma.  I had Melanoma.  I may have Melanoma again.
I will be seen at the Stanford Cancer Center next week, for a full evaluation.  I am transitioning all of my care to them.  I don't fuck around.  I have too much to live for.  This is the new normal.  I will know more about what that means next week. They will biopsy more spots.  The wait will begin again.  They will map and observe and evaluate and cut.  On a regular basis.  Now I have a history of Melanoma.  At 38.  With a history of avoiding the sun.  My history of Melanoma will never be history.  It will be with me every day.  It will be part of my story, and I will do everything I can to make sure that it is not how my story ends.
My worry sits in my pocket now, and I take it out every few hours to examine it and tell it thank you.  I know right where it is now.  I will never lose it again.  It saved my life.  It brought me back to my children, and my husband, and to a world that has more things planned for me.  My worry is important, and necessary, and a part of loving and caring for myself.  My worry is a responsibility.  And it should be.
My worry saved my life.  My people saved my life.  A skin-check saved my life.
And I hope it saves yours too.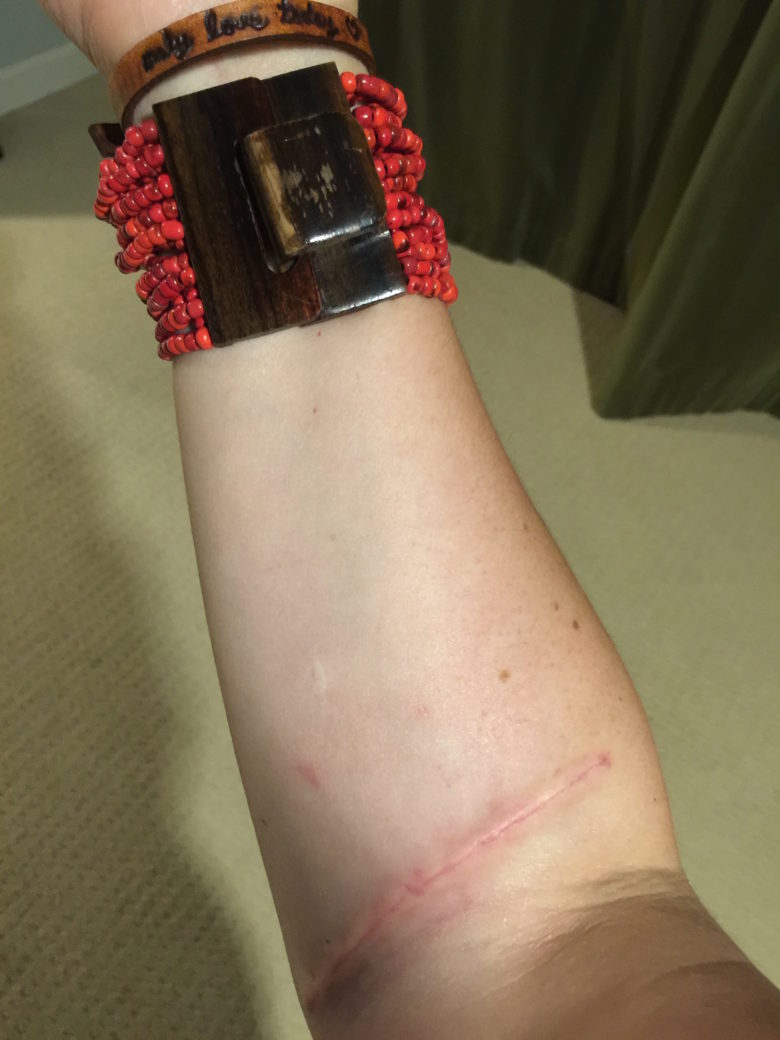 Sweet friends, call your dermatologist and make an appointment.  Every single year.  Do it for yourself, for your babies, for your loved ones, for your peace of mind.  Do it to keep your body healthy and strong.  Because your story isn't over yet.  And Melanoma doesn't fuck around.