I am a sucker for clothes.  Lots of clothes.  I'm sort of a collector/hoarder/treasure-hunter when it comes to putting outfits together.  I find excuses to cruise around the mall when Ben is napping peacefully in the stroller (it counts as exercise!).  I obsess about buying multiples of things that I love (Old Navy tank tops to go under everything, every single pair of American Eagle super soft skinny jeans that I can possibly find).  But as much as I binge on clothing, I end up wearing the same.damn.thing every single day.  Tank top and maxi skirt.  Tank top and jeans, maybe a flowy cardigan.  Favorite earrings.  Wet ponytail.  Bam.  Mascara on a good day.
The 25 year old me would kick my ass.  I have officially lost my street cred.  I haven't read Allure or Glamour in years.  Let's be honest, any free time that I have is spent mindlessly cruising Facebook trying to make a wonderful life for my precious children.
Then I heard about Stitch Fix.  And I know that you have too.
But this isn't your average Stitch Fix review.  Because I'm not a fashion blogger.  I can't take a damn picture of myself to save my life.  And I feel really stupid posing in clothes on the Internet.  Wait.  That came out wrong.
And yet….I decided to give Stitch Fix a try.  Now if you know about Stitch Fix, and you've read three billion other blogs about it, then you already know the drill.  This is where the paragraph about subscription service/new clothing finds/pay $20 styling fee/ fill out detailed style questionnaire/recieve carefully curated box of clothes and accessories/try it on/send back what you don't like keep what you do/3 DAY DEADLINE OMG HURRY AND DECIDE/take a bunch of ass and feet selfies/blurt your body insecurities to the Internet comes in.
I did it.  I ordered the damn box.
And damn you Stitch Fix, but all you're doing is feeding my addiction.
And making me realize that I really need to learn to take pictures, because I'm about to show my BE-hind to the Internet.  I need help deciding on these f-ing red skinny jeans.
SO.  Here we go.  If you googled "Stitch Fix Review" and you found little old me, then I'm apologizing ahead of time.  I don't have long beachy waves in my hair.  I'm not posed outside by a beautiful rose garden.
In fact, I'm not even going to show you my face, because I wasn't wearing make-up and my hair wasn't done.  HELLO???  Isn't this why we are ORDERING CLOTHES ONLINE so that they SHOW UP ON OUR DOORSTEP??  I tried this stuff on in the last 30 minutes before the babysitter left, people!  If you have enough time to do your hair and make-up, then GO OUT AND BUY YOUR OWN CLOTHES!!!
Anyway.
This is really embarrassing.  I know for a fact that one of my ex-boyfriends reads this blog.  Ok, maybe two four.  (Hi guys!)  Is this more embarrassing than talking about breastfeeding all of the time?  Hmmmm…..maybe not.
<Insert obligatory picture of Stitch Fix box on doorstep here.>  Except I forgot to take it, because I was carrying groceries inside and the salmon was leaking out of the bag and all over my foot.
<Insert obligatory picture of beautifully wrapped package of Stitch Fix goodies, and neatly folded pile of clothes here> Shit.  At this point I had 24 minutes of babysitter time left.  Maybe next month.
<Insert obligatory picture of enclosed style card here.>  OOH, I've got this one!
Stitch Fix sends you a cute little card with outfit ideas, so that those of us who haven't read Vogue in a few months years know WTF to do with these gorgeous pieces.  Umm, wear them….that would be my first problem.
According to the bajillions of fashion bloggers who do this stuff so beautifully, I'm supposed to try this stuff on and SHOW YOU.  Like, invite you in to the dressing room with me.
Behold!  For your viewing pleasure, the first piece is the Rylin Pintuck Detailed Silk Blouse in black!!  (I'm supposed to give the whole name like that, see?  That's what the fashion bloggers do.  Expert Tip?  Now other Fix-ers can do a Google image search for this stuff when their box ships, to get a little sneak peek.  Surprise!  It looks like this!  Sorry I'm not out in the garden!)
<Insert obligatory commentary about what I like/don't like about the item, whether or not I should keep or return it, and how much it costs…..GO!>  I didn't like it.
Except I forced myself to take a stupid picture for the purpose of this blog, and well I'll be damned….it looked kinda cute on!  And I also got this necklace, which apparently was chosen for me before my lovely stylist Tang looked at my Pinterest board (you're supposed to make one for your stylist to look at, and it's called "Stitch Fix Style") and realized that I had asked for "dainty and delicate" necklaces.  The price was right on this one ($28, it's the Towne & Reese Kelsey Stone Cluster Pendant Necklace…got that Google?!), but it reminded me of a bunch of grapes.  And it would take .05 seconds for one of my crazy kids to yank it off and break it.  So both went in the return pile.  Until I looked at the pictures, and well….shit.  I look kinda put together for once, no?
Next up, the reason why Stitch Fix tells you to TRY EVERYTHING ON.  No really, try.it.on.  They sent me red skinny jeans.  It is very possible that when my style questionnaire asked if I liked to show off any body parts, I checked the "butt" and "boobs" boxes.  Maybe.  But I meant gracefully, Stitch Fix.  Not in fire engine red skinny jeans for christ sake.  But fine.  I'll try them on.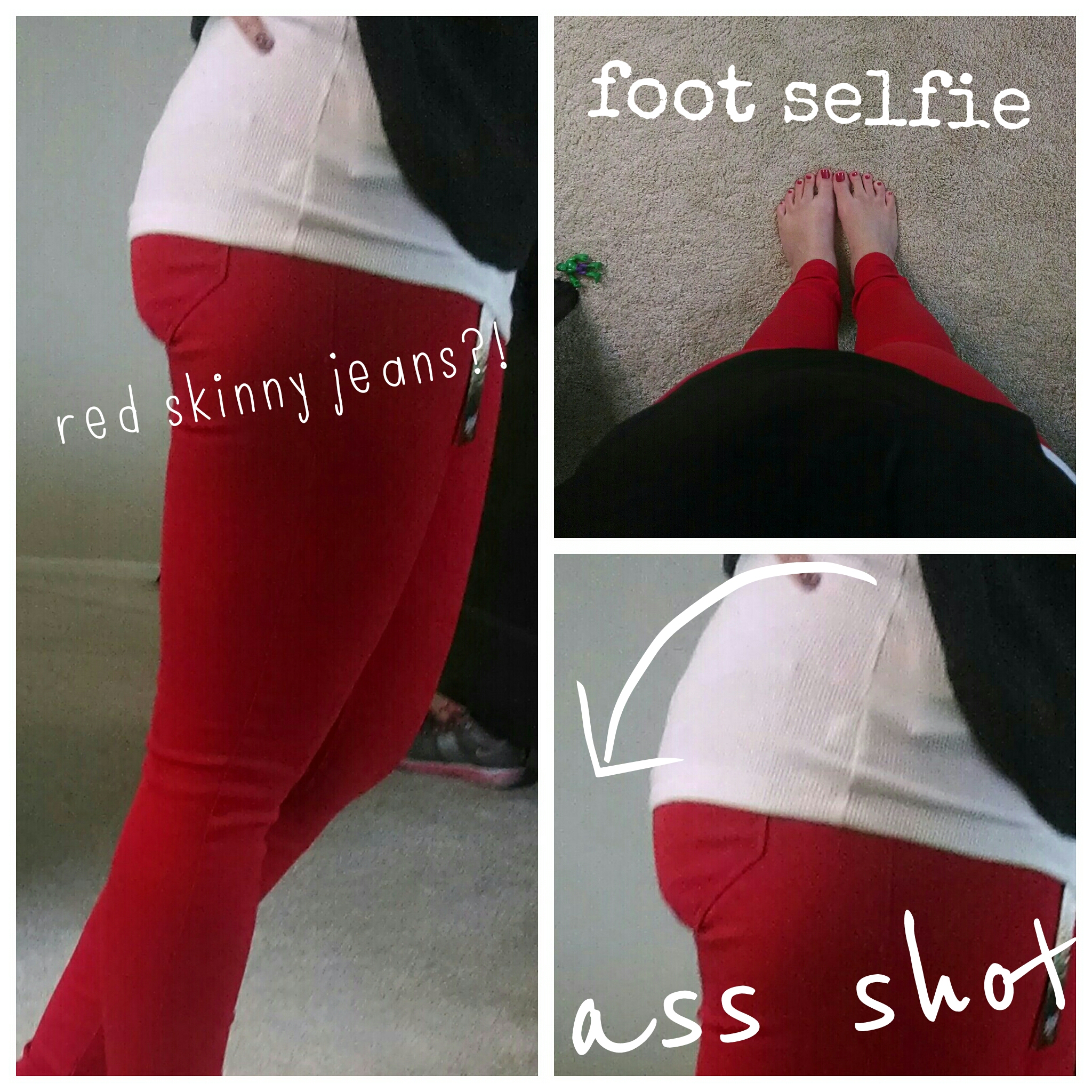 For the record, I have done a careful analysis of what other bloggers do in their Stitch Fix reviews.  My very scientific analysis showed that you are supposed to take a "stare down at your toes" selfie, and a few ass shots.  Jeepers Stitch Fix.  FINE.  Ex-boyfriends, please close your eyes.  Oh, and extra style points if you can find the Incredible Hulk photo-bomb in the above picture.  See, fashion bloggers?  Bet you don't have HIM.
I refuse to spend $88 on the Kaleigh Ankle Biter Skinny Jean (I'll be watching my blog stats for that exact search term).  Although I must say, my ass is ON FIRE in those pants.  Get it?  Red?  On fire.  Nevermind…
On to the next one.
Have I mentioned that I used the A Beautiful Mess app to create these picture collages?  It took a freaking hour to do, because I couldn't figure it out.  Fashion bloggers, I bow down to you.  Maybe next time I'll spend the time doing my make-up, and just use the crappy un-edited pics instead.
Back to the clothes.
<Insert gushing remark about OMG I AM IN LOVE WITH THIS CARDI here>.  OMG I am in love with this cardi!!  It is the softest thing EVER.  It has a cute preppy little patch on the elbows!  It's long enough to cover my bum if I'm wearing skinny jeans in the winter (not the red ones though, because they just scream HELLO KINDERGARTEN MOMS LOOK AT MY ASS!).  It makes me want to curl up on the couch and snuggle myself.  Which, considering I spend most of my day on the floor with kids, is a definite win.  And look!  I even snuck in a cute shot of my breastfeeding boobs.  Because I can also use this as a little cover-up for when I'm nursing in public.  Verdict?  KEEPER!  The $48 Layla Striped Elbow Patch Detail Cardigan for the win!  (But seriously Stitch Fix.  What the hell with the long names?  Can't you just call it the Elbow Patch Cardi?).  In my closet.  DONE.
Now here's where I'm stuck.  <Insert obligatory "Hey Loves!  What do you think about this skirt?" question here.  Because I guess when you Stitch Fix, you're supposed to rely on your bloggy peeps to tell you if they like something.  But you only have 3 days!!  The anxiety!  And every time I ask my husband he just says "Ummm….it's cute.  How much does it cost?".  I miss the days when I could just walk out of my bedroom and ask my Roomie what she thinks about my outfit!">  Loves!!  What do you think about the $58 Hattie Tie Dye Jersey Maxi Skirt????  I'll be honest, when I first Google searched it I was pissed.  Then it arrived in my box, with a lovely note from Tang saying "as soon as I saw the skirt, it made me think of you".  Oh really, Tang?  You clearly don't know me AT ALL.  I mean, I have pinned every damn maxi skirt I could find to my Stitch Fix board, but TIE DYE?  Is that even IN?  Whatever Tang.  I'll try it on.
Damn you, Tang.  It's the softest darn hippy skirt I've ever seen.  It doesn't smell like essential oils.  It might be tie dye, but it accentuates my hips just perfectly.  And oh look!  I can wear it with my old friend White Tank Top, and a necklace that I've already hoarded!  SOLD!  To the sucker with 13 minutes left on the babysitting clock!
Deep breath.  <Insert obligatory "$20 styling fee goes toward the purchase of your clothes" statement here>
Aaaand…the real reason why all of the bloggers resort to ass shots and feet selfies?  We get a $25 credit for every one of y'all who signs up using THIS LINK!!! <Insert shameless disclosure and personal Stitch Fix link here>
Seriously though.  After all this, why wouldn't you want a clothing surprise delivered to your doorstep once in a while?  Stitch Fix is like magic, people.  You tell them your style preferences.  You set your clothing budget.  (Hey Tang!  $88 is a little pricey for screaming' red pants, my friend!)  You try it on in the comfort of your own home, and then embarrass yourself on the Internet for feedback.  Send some stuff back.  Keep a few things that make you feel warm and cozy and good about yourself. <insert obligatory tip about how you actually get a 25% discount if you purchase everything in your Fix>.  Fill out the online questionnaire about what you liked and didn't like, so that they can learn more about you for your next Fix.  Pay for the items that you're keeping.  Put yoga pants back on.  Swear to yourself that you will actually WEAR these trendy and adorable pieces, just as soon as you can trust that your sweet little mess-buckets won't destroy them.  Make urgent appointment for Brazilian Blowout treatment to straighten and beautify your hair.  Plant some pretty flowers in your garden for the next photo shoot.  See?  I'm a new, trendy, hot mama folks!
Shit, maybe I should have kept the red pants.
<I'm off to Pinterest the hell out of this post.>