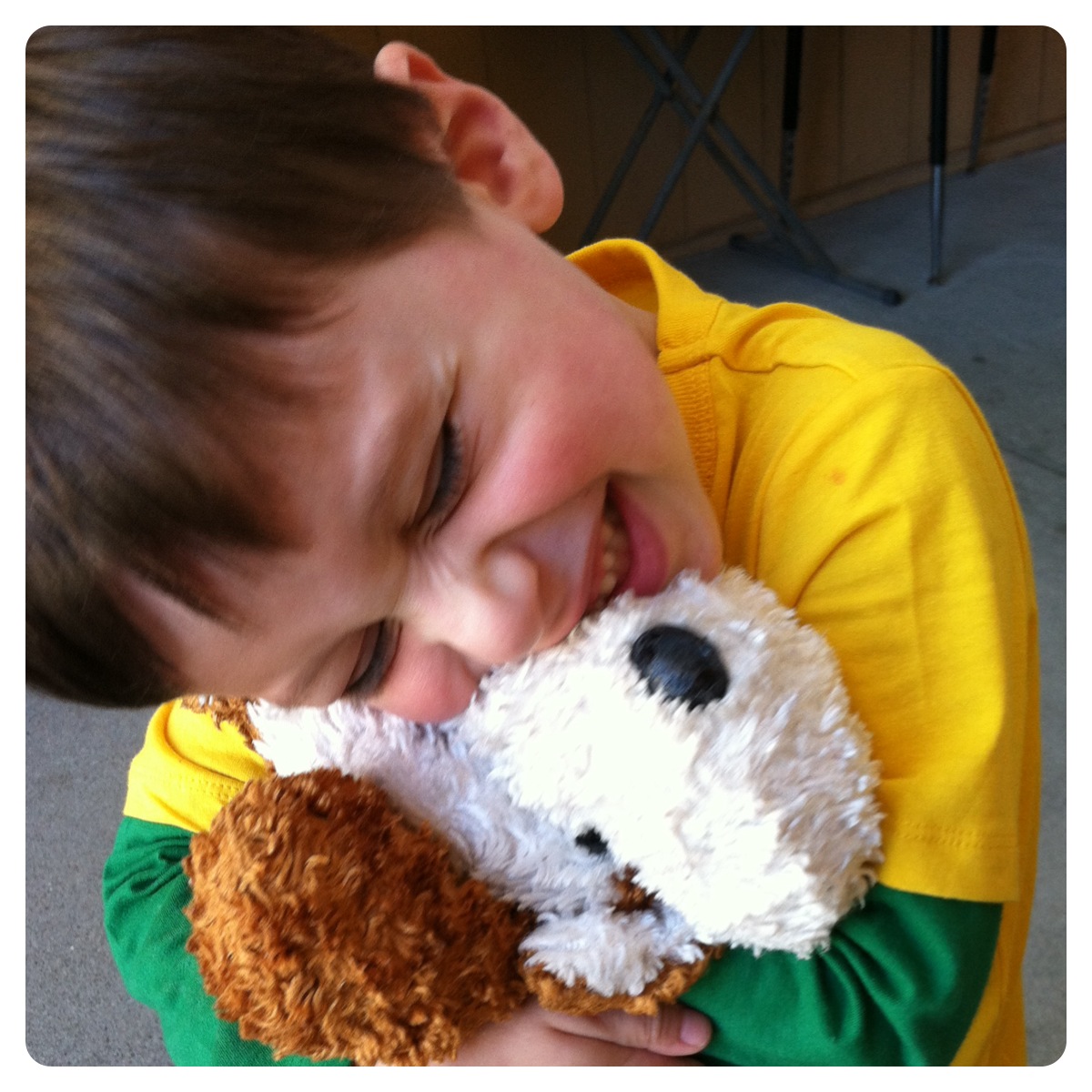 Friends, I'd like you to meet Yofee.  He's the Jewish preschool version of Flat Stanley.  Each child has the honor of bringing Yofee home for the weekend, and then writing about Yofee's visit in his very own journal.  Except Max's mom is a Mommy Blogger.  So Yofee had his own hashtag, and his adventures happened to rhyme.  Max loved that darn dog more than any other kid ever had.  And he was way more cuddly than boring old Flat Stanley.  Here's an excerpt from Yofee's memoirs:
Max's Adventures With Yofee
What a nice surprise it was, when Yofee came to stay.
Max was so happy to bring him home
to snuggle, laugh and play.
On Friday Max showed Yofee all the things he likes to do.
They hung out by the fire hydrant,
and waited for the fire crew.
When they came home Max smiled and asked
if Yofee could change his name.
He decided to call him "Zipper",
and Yofee liked that game.
So Max and Zipper had a snack
then went for a little ride.
Max pushed him around in his beep-beep car
and Zipper kept his paws inside.
At dinner time Nana and Auntie showed up,
we blessed the challah and had some wine.
Max helped to light the beautiful candles,
and Zipper watched them shine.
On Saturday Zipper joined Max and Daddy
for a special Boys Day surprise.
The went to see the Meatball movie,
and then shared a burger and fries.
Later that day Max and Zipper put their seatbelts on real tight.
They got to drive with all the grown-ups
to the City for dinner that night.
Aunt Katie was having a birthday party
so Max got to stay out late.
Zipper helped Max blow the candles out
and almost fell in Max's plate.
When we drove back home it was really dark
so Max hugged Zipper tight.
They both fell asleep in Max's car seat,
then we tucked them in bed that night.
On Sunday we all relaxed and watched the Eagles play football.
Zipper liked when Daddy cheered,
and when Pop-Pop decided to call.
So now it's Monday and we're sad to say
that it's time for Zipper to go.
Max was such a nice friend to him
and really loved him so.
So Zipper, take good care of yourself.
Have fun when you're back in school.
Max will miss your cuddly arms
we all thought you were pretty cool.
We wish you great adventures
even though ours must end.
Be brave and do great things now Zipper,
Max will always be your friend.
Love,
Max Simon and Family