Dear Max,
This blog has always been my love letter to you.  I don't write about you, I write for you.  I write so that you will always have a record of how I feel about you.  I show you every day, with hugs and laughter and smiles and sweet "nose kisses".  I show you by setting boundaries so that you can grow into the young man you're meant to be.  I show you by following you around the living room to play "marching band", loudly banging my cymbals as you play your drums.  We show each other, with bedtime snuggles and silly jokes, family hugs and private songs.  You are "my best".  And I know that you know that I believe that the sun rises and sets by the curves of your cheeks, the glimmer of mischief in your smile, the missing "V" sounds in your cheerful voice.
I also write this blog so that one day, when you are a Daddy to your very own perfect boy, you will be able to read about the depth and breadth of parenthood.  Our experiences becoming a team, becoming a family.  Perhaps it is only in those moments that we fully understand how a parent's heart expands….when we become a parent ourselves, and are faced with the realization that our own parents loved us larger and stronger than we ever imagined another human being could.
I am not just a "mommy blogger".  I want this space to be yours.  And your Daddy's.  And someday soon, your little brother's.  This is our treasure chest, our written memories, our family tree.
Sometimes our stories will be shared with many, and that is a beautiful bonus.  Sometimes we will find new friends who join us on this journey, and we will welcome them here with open minds and generous hearts.  But first and foremost, this sacred space is yours.  So that you never forget that you are the best thing that ever happened to us.  The kindest, sweetest, most perfect love.
You are a mirror image of your Daddy.  You share his laugh, his wicked sense of humor, his desire for adventure.  Your hazel eyes hold the same dimension as his, always flickering with delight and excitement for things to come.
You find dandelions underneath your feet.  You pay attention.  You soak the world in.  And you are curious enough to wonder where all of the fragile seeds land, as they catch the wind that carries them gently away.
You have an energy that is limitless.  You run, you dance, you jump, you somersault.  And just when I think that it must, it must, be time for you to rest….you throw your arms in the air and yell "I BUZZ LIGHTYEAR!" and jump off of the sofa.
You are spirited, and wise, and you look so flippin cute in your Purim crown.
You love pizza, and noodles, and cheeseburgers and french fries.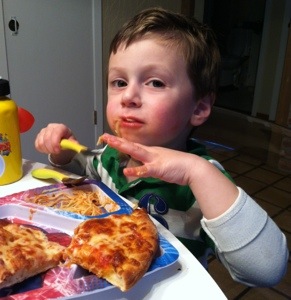 You are creative, and thoughtful, and have a very grown-up ability to figure out how the world works.  You are a future engineer, an architect, a neurosurgeon, a "fixer".
When I picked you up from preschool the other day, Teacher T. said to me "Max is so KIND.  He is just so kind to everyone.  He checks in with his friends if they are hurt, or sad.  He is always looking to make sure someone is OK.  He is so kind."
And with that, I knew for sure that we were doing it "right".  You are kind.  You are thoughtful, and genuine, and tuned in.  I am proud of you, my sweet.  I am proud of our little family.  And I will continue saying that here, because even though our stories are beginning to reach far and wide, this is our space, and I am so fortunate to be able to experience it all with you.
I love you,
Mommy