When I was pregnant with Max, we warned our friends and family not to buy him anything "branded". Our child wouldn't be swayed by Disney. He wouldn't need to know who Mickey Mouse was. "That's all just extra crap that kids don't need" we said.
Then we actually had a child. And oh my, how this boy's eyes lit up when he realized that we were going to be staying for a whole week at Mickey's HOUSE.
This isn't just any old Mickey Mouse Clubhouse, by the way. This place is on par with the Ritz Carlton and the Four Seasons. The kitchen in our one-bedroom suite has marble counter-tops and the bathroom has a rain shower. There's not a cheesy "Small World" jingle in sight. Instead, everything is Hawaiian-chic and sophisticated…except Goofy and his pals are behind every corner….and dancing around the pool deck.
We're discovering that family-friendly resorts aren't really that annoying after all.  In fact, it actually makes things easier when you're staying somewhere that can anticipate every move that your three year old makes.  Mickey waffles for breakfast, tiny life-vests for floating down the Lazy River, low sinks in the public bathrooms, and Disney Jr on every TV screen?  If we weren't getting up at 6:30 every morning, I'd say that this vacation was almost…..easy.
You'd think that boogie boarding in a crystal clear lagoon,  floating on an innertube through a volcano that spits water, and watching Nemo have his lunch would wear a little guy out.
Not so much.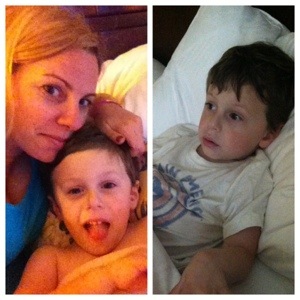 Who wants to nap when there's magic to be found around every corner?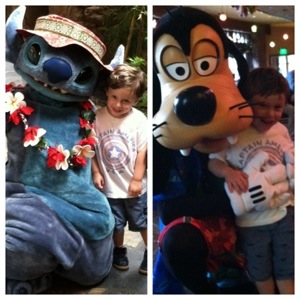 Disney does it right folks. I mean, you won't see me wearing those ears any time soon, but after watching Max's face light up as he shouts "HI there Mickey" and gives the mouse a high-five? That's some magic I can believe in.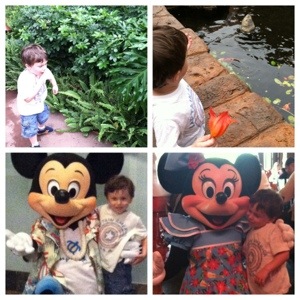 If you need us this week, we'll be floating in a tandem innertube down the Lazy River.  Leave a message with Goofy, and we'll be sure to get back to you.
Aloha!