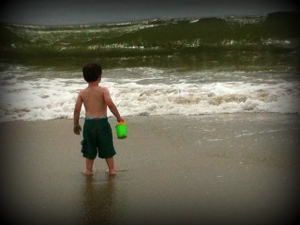 Ocean City, New Jersey
The Summer of 2012
I grew up at the beach.  A beach a few thousand miles from this one.  On an opposite coast.  And yet when I dreamed of my tomorrows, they looked like this….
Our family came together a few weeks ago.  They showed up big time.  Embracing our little guy, sharing a house at the shore with us, and helping us to create some "Days Of Summer" memories.
Pop-Pop read stories with grandchildren looking on.  I was overwhelmed with love watching these three cousins together in one room.  Alec, Shelby and Max just fit together like puzzle pieces.  They knew each other in that top-secret-special cousin way, even though they live a few dozen states apart.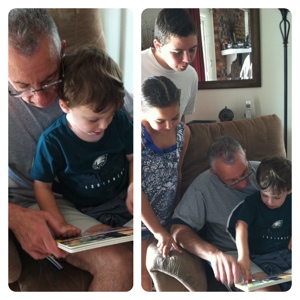 Max's Nana gave him kisses, and snuggles, and lots of smiles and attention.  He soaked up every second.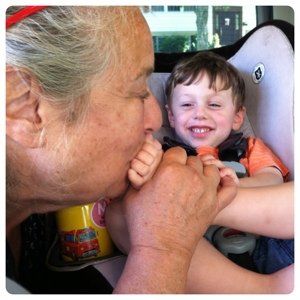 The beach was just a block from our doorstep, and something crazy happened while we were there.  It started with Mom-Mom bringing water to Max's sandcastle.  Encouraging him to get wet.  Suddenly he took his shoes off.  And ventured down to the shoreline.  Daddy held him high above the waves as the ocean spray tickled his face.  And then…..he was off!  Jumping and crashing through waves, falling onto the sand, spitting out mouthfuls of salty ocean water.  A few days later, Nana was there at the water's edge, laughing at Max's fearlessness and cheering him on.
Mom-Mom and Pop-Pop were castle architects and gave big "You did it!" hugs when Max came running up the shoreline.  Alec and Shelby held the boogie board while Max skated through tiny waves.  The beach was friendly this trip, and Max walked a little taller, bolstered by his pride and courage.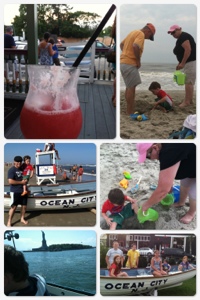 We were joined by some of our dearest friends at the beach house.  We've missed Si-Si and her family since the day they left our tiny coastal town over a year ago.  We've been dreaming of this reunion for far too long.  We ate pancakes in a rainstorm, watched our 3 year olds dance and jump through enormous puddles, and smiled as baby Rowan fit in perfectly.  It was a little bit of The Bay, at The Shore.  How we've missed our morning coffee playdates, and living room chats.  Si-Si will always be Max's special girl, and Paula my "Bestie in the Westie".  For just a few days, it was like they never left.  And it breaks my heart a little to be back home in our old stomping grounds without them now.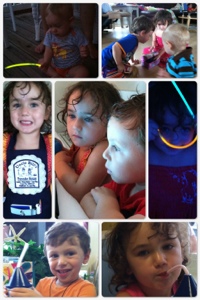 And THESE boys? I'm not sure if I was more excited to see Mason and Max play, or more excited to hug his mama.  Apparently my husband once took Tiff to Prom.  But I think that she was meant to be my soul sister.  I appreciate that at 18, he knew that his future family would one day meet his childhood friend, and benefit from the enormous wisdom, strength, and warmth that Tiff radiates to everyone around her.  Max and Mason bonded over superheroes and Cars, snacks and beach toys.  And Tiff and I brought our dozens of email conversations to life.  I can ask her anything.  Confide in her everything.  And fear nothing.  I'm kind of not kidding when I say that if I am ever pregnant again, I will find a way to take her childbirth classes and have her doula-ness by my side.  She is that amazing.  And funny.  And real.  With the most gentle, kind husband, who kept our little guys moving in the right direction.  And her kid taught my kid to be brave on the rides at the boardwalk.  A perfect match.  I just wish they didn't live so far away.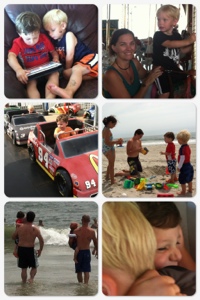 Our week flew by as family and friends came and went.  We had pizza.  We wore matching shirts that said "Ocean City".  We stayed up late eating chips and drinking wine.
We wore sunglasses.  We ate ice cream.  Pretty much every night.

Sean's friend Jared joined us with his 3 kids, and they brought the energy and sweetness that summer boardwalk nights demand.  Three of the most kind, well-behaved, geniunely nice children I think I've ever met.  They are all just good people.  And I loved watching Sean and his high-school buddy, as they watched their kids, years later.  Full circle.  Full hearts.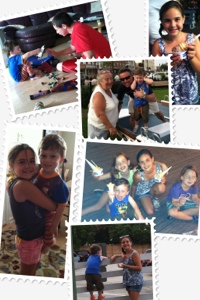 On one of our last days at the shore, I looked in my rearview mirror to see kids packed tightly together.  Cousins.  Friends.  Grandkids.  They were laughing and poking each other.  They were covered in sticky chocolate ice cream.  Their eyes were glistening with the excitement of summer nights.  And I cried some happy tears, some god I am so damn LUCKY tears, as the radio played softly in the background….
"May you grow up to be righteous
May you grow up to be true
May you always know the truth
And see the lights surrounding you
May you always be courageous, stand upright and be strong
May you stay forever young
Forever young,  forever young
May you stay forever young."