Too.much.stuff.  Too many wardrobe options to pack.  Too many things rolling around in my brain. Two days left, and then we leave for BlogHer 12.
I have been listening carefully to everyone's words of wisdom about bringing comfortable shoes. There are breakfasts and sessions and workshops and keynotes and parties and expos and parties and swag to hoarde and parties and…..


…..and I'm still bringing these. Because I am a slave to fashion stupid.  If you see me at BlogHer, please dangle your cute little flats in front of my face tell me you love my shoes.  You can laugh at me behind my back.
Max and I needed a little break today.  Sean was at his wits end with the disgusting state of our house, so I took the little guy and found a zen moment listening to some stoners at the Farmer's Market play the drums.
While we were gone, Sean did laundry/organized the closet/took out the trash/reorganized the kitchen.  I know, I know….it's pure dumb luck that I landed this guy.  But at least I'm good for something….like making a cute kid.
Another reason why I need to go to BlogHer 12?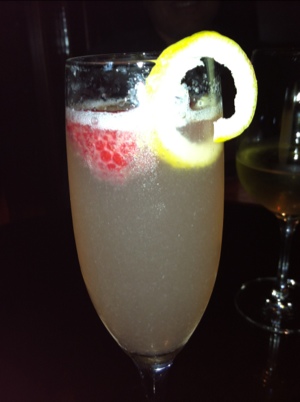 No, not to drink!  To learn how to take better pictures for my blog, of course!  The champagne flute above?  Filled with sweet PINK champagne.  Can you tell?  Of course not.  Because I suck at taking photos, and I use my iPhone.  Is there a workshop for that?  Can I walk there in my patent leather red Dorothy shoes?
The champagne was for our 5 year anniversary.  See?  We still get all fancied up, even 5 years later.
(These pictures are cute, so just ignore the boobage…and focus your attention on the smiling little boy at the bottom of the picture).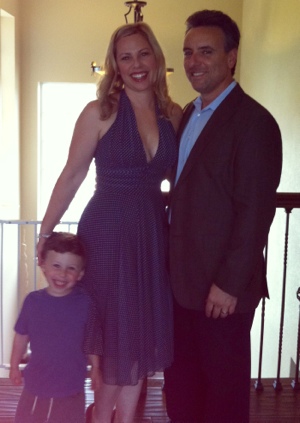 In other random, but noteworthy news, I was thisclose to chopping off all of my hair a few days ago.  Thisclose means that I was sitting in the stylist's chair, begging her to do it.  She offered to make me some pink highlights instead.  I think that there's a strange phenomenon that us bloggers go through before we head out to a major conference.  Kind of like a "How can I make myself stand out/be different/be liked/be remembered forever" phenomenon.  Remember how I said my head was a mess?  She knows how to soothe the beast.  Thank god.  Because I went home and curled it up, and suddenly LOVED MY LONG HAIR.  Go figure.
Max is ready for our trip to NYC too…..
He's been reading up on his airplane book with Uncle Scottie.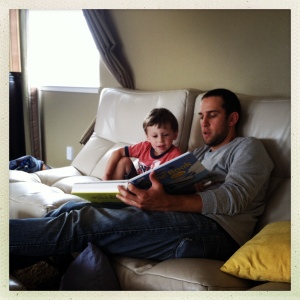 That is, when he's not putting fires out at preschool.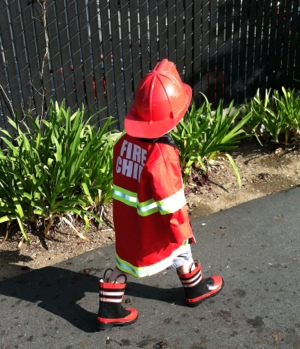 Or throwing all of his stuffed animals in the doorway to his room and saying sweetly "Mommy, you can't come in.  I doing my EX-ercises."
We're going to NYC.  Did I mention that?  The lovely folks at the Hilton were less than thrilled with me today, because I called THREE times to try to explain our bed situation.  Let's just say that we struggle with finding an appropriate bed set-up for Max.  Because he loves to sleep like this….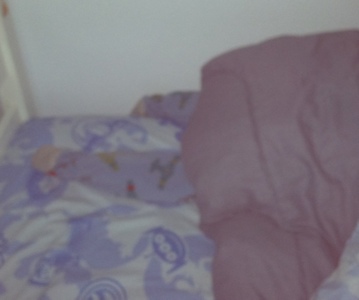 But you know what?  The Simon family is FLEXIBLE.  The Simon family is UP FOR ADVENTURE.  The Simon family is screaming BLOGHER OR BUST, and packing up our platform shoes and our party headbands, and leavin' on a jet plane.  So if you see a Mama By The Bay, who looks like her head is going to explode, and she hands you one of these cards?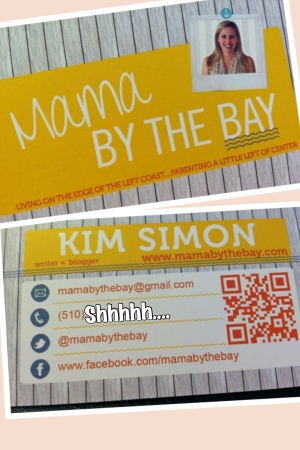 Reach on out and give her a hug.  Or at least throw a pair of swag flats my way, for goodness sakes!
BlogHer 12 baby!!!  OR BUST!