Friends, please say hello to "Safety Turtle". He lives in the projector on Max's nightstand, and is accompanied every bedtime by the sound of ocean waves crashing. Safety Turtle is my hero. Max was sleeping at 8:10 am this morning. And even though it's only happened two three times recently, I am giving the credit to the flourescent turtle. There is nothing cuter than walking in to your toddler's room to wake him up for preschool.  Read that sentence again.  "To wake him up".  Never thought I'd see the day.  And the cuteness of a sleeping, sweet-cheeked, fleece-jammied, blissed out little boy?  Oh, my heart.  And oh, my brain….on a full 7 hours of straight sleep.
When Mommy sleeps, Mommy feels better.  It's the simple things.  I'm loving this life.
Max is in preschool.  I'm nursing a coffee that I probably don't need (I mean c'mon…7 blessed hours, people!).  The young prodigies sitting next to me are (loudly) discussing their upcoming IPO.  (Really dudes….we're in Starbucks.  Shouldn't that type of enormous money-making endeavor be discussed in your "quiet voice"?)
Doesn't matter.  I'm loving this life.  A little guy who drinks milk from a cup.  And kisses himself in department store mirrors.  And shouts "Oooooh!  Cool car!!!" when we walk by a beauty like this.
Hey Mom-Mom!!  Look who's flossing his teeth!!  Don't worry, I'll wait for you to run into the back and grab Beth and Dr. R and Dr. D!! 

Perhaps this will make up for that other Simon, the one who cried like a baby when she had to get her teeth cleaned, and forever smeared the family name.   It's not every day that you have a family member who works in a DENTAL OFFICE, and they bring in another family member who is then reduced to tears on the back patio because "I don't waaaant to go in!".  I have a dental phobia people.  Don't judge me.
But really, don't you wish your hair looked this cute while you flossed?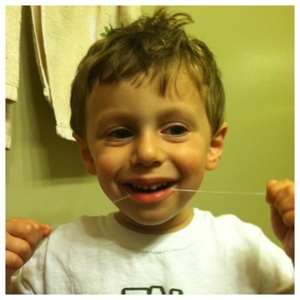 And since I'm not at the dentist, I am loving this life.  This one….
The one where my little guy eats popcorn.  And builds a tent out of dining chairs and blankets, while wearing nothing but a diaper.
What's that on my wrist, you say?  It's a little BlogHer bling….from me to me.  NYC is next-ever-loving-WEEK y'all!  You shall know me by my nautical bracelet.  Because I am Mama By The Bay.  By the BAY!  Get it??  So if you see me standing in the corner, looking very shy and quiet and NAUTICAL?  Come on over and say hello!  And drag me back in to the conference.  Let's not have a repeat of that one time at the dentist, 'kay?
Happy Monday friends!  May your popcorn be caramel, your start-ups go public, and your Safety Turtle stay on all night!