1. That says SIX.
2. "Mommy, moo cows go pee-pee out their mouth!"
"Uhhhh, no honey, moo cows go pee-pee out of their, uh…."
"Their BUTTS Mommy!"
3.

4.  Daddy is finishing up a long business trip, so Mommy tried to fill his shoes at a Farmer's Market Double Header this weekend.  Max graciously showed me where to park, which stands had the best "stwabewwies and bwuebewwies", where the best spot for dancing to the guitar player was, and how Daddy lets him eat a chocolate chip cookie for breakfast.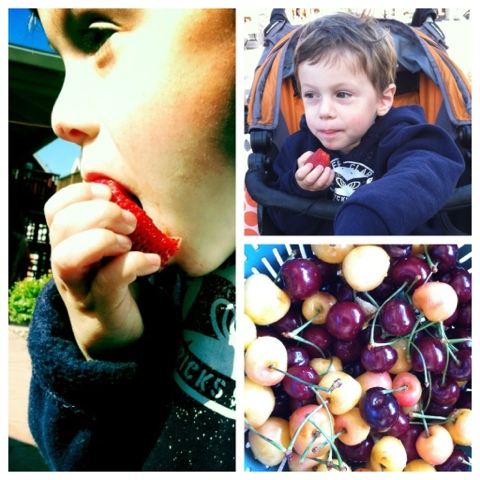 5. We are so thankful for our sweet friends, who enveloped us with love and showered us with laughter over the last week while Sean has been away. Max and I have some wonderful buddies, and we are so grateful to this group of families who have become our community. Thanks to the mamas who have met us for playdates, shared meals with us, called to check in, and comisserated with me about the "Tantruming Threes" and the Terrible Horrible No Good Very Bad Nights we've been having. You ladies (and your little ones) ROCK.
6. According to "What to Expect: The Toddler Years", drawing circles is a developmental milestone. So Max busted one out, with a bathtub crayon no less.