1. Summer.  BBQ's with friends.  Long white flowy skirts and tank tops.  Little boys in cargo shorts and T's.  Little boys who match their Daddies….by accident.
2. Family time. Great memories of how our family began. See the sign behind us? It's the restaurant where Sean and I had our first date. I was amused amazed that he knew of the best restaurant in my small town, and we sat in the bar and had political conversation over drinks. He wore linen pants. And I was shocked that guys still wore linen pants. I wore jeans, and I'm pretty sure he checked out my ass when I walked to the bathroom. I did that on purpose. Didn't you?? When he walked me out to the car he dropped the stylus for his blackberry (remember those?!) in the street. He asked me out on our next date before we left our first….and we HUGGED goodbye. No kiss.  I'm not that kind of girl, y'all.  And now, well, I'm pretty sure that there is a god, because look at my beautiful family (OK, so it's the back of Max's head, but you get the idea)….so blessed to have met this man, and created this child together.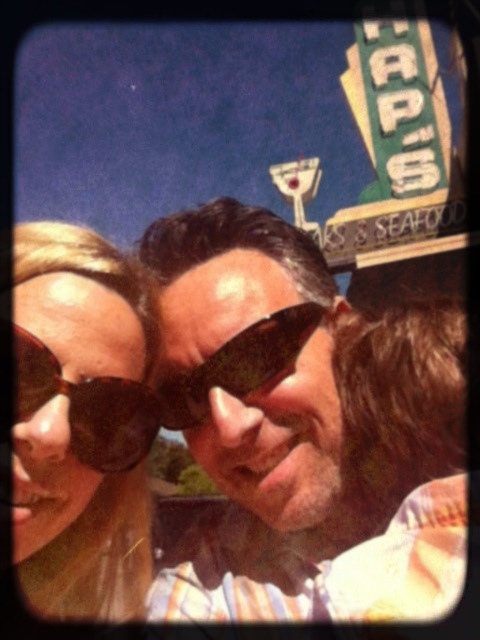 3.  This child.  He makes me laugh out loud.
"Mommy, you don't need coffee"
"Yes I do honey.  Mommy needs coffee to help me feel awake."
"You need a BIG coffee!"
***
"Max, today we're going to go play in a NEW class at school!  It's summer camp!  We're going to see Teacher L and Teacher N, and play with some NEW friends!  Oh, and look, it's your buddy E!"
"Oh NO Mommy!  I don't want a NEW E!  I want to bring back the OLD E!"
***
"Mommy, we need to go on the airplane and fly to San Diego.  We need to get my Baubee back!"
4. Ice cream. Daddy kisses. Endless toddler questions about where the firetrucks are going, what the policeman is doing, and where Teacher B went for the summer. "She's taking a break honey. She's on vacation." "But why Mommy?" "She needs a rest." "She NO need a rest!" Best summer camp friends, running in to school together holding hands. Deep mommy sighs of relief. We belong here. These are our people. There will be no throwing up on the first day. Or the fifth day. Max, not me.  I didn't puke last summer, but I did bawl my eyes out in the parking lot on the first day.  While Max was puking.  God bless his sweet preschool teachers!
We're in the swing of Summer. It's hot, it's sunny, and it reeks of sunscreen and BBQ smoke. We're dancing in the kitchen, going for evening walks around the neighborhood, and feeling really lucky to have such a warm community of friends. Happy Summer to you lovelies!