We've had some fun adventures to be thankful for this week, so we're linking up to Jennifer's Five Faves on Friday over at Also Known As The Wife.

1. Chocolate ice cream. On a cone.

I have never seen my boy devour something so completely.  Milo, this cone's for you….Max is going to challenge you to an ice cream eating contest this summer at the Jersey Shore!  (Yes, you heard it here first folks.  The Simon Family West is going to be making the Jersey Shore our b– this summer.  Our BEACH you guys, our BEACH.  Cripe.  You're so sensitive.)

2. Baubee was with us last week, and she always brings a suitcase full of love, support, laughter, and chocolate ice cream adventures.

I love having my mom by my side every day, and she always has the best ideas to refresh our day-to-day routines.

3. Mint chip ice cream. On a cone. Oh dear god the most delicious way to usher in the Summer EVER.
4. Max's fascination with firetrucks continues…and holy shit, what an amazing tour we got this week!  Uncle Matt has friends in high places, so the Weiss fam treated us to a behind-the-scenes tour of a local fire station.  Chief George and FireWOMAN Trisha treated our kids like the guests of honor, and we loved sharing such an amazing day with our best buddies!
"Hey Jack! You drive your rig over that way, and I'll pull in right over here! There's a five alarm blaze the next town over! Tell Molly to gear up too!"
5. Feeling really blessed to have such wonderful friends and family.  And a boy with such an active imagination….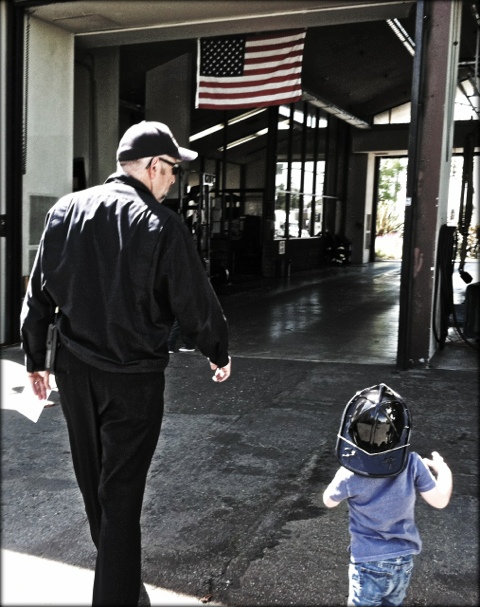 A special thank you to the men and women who drive our firetrucks every day, and protect our families with their strength and courage. We appreciate your hard work, and are especially grateful for the kindness that you showed our little boys this week!