Hey….are we all still present and accounted for??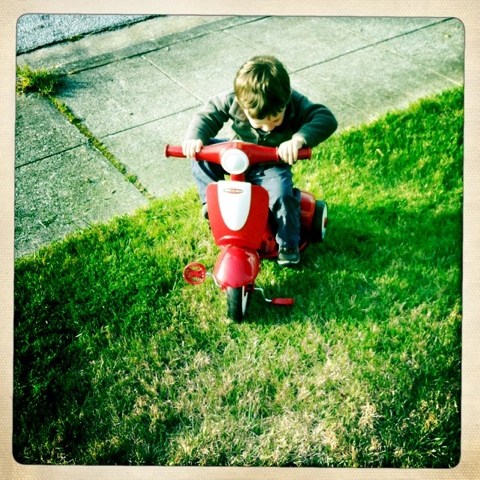 The last few weeks have been an amazing journey, and our little corner of Bloggyville has welcomed some new friends (Hi new friends!), but shit…things have been HEAVY over here!

So I figured we need a break from being so serious for a bit.  Go on, put your box of tissues away.  I'll wait.
That's better.
Now how 'bout a few Max-isms to go with your morning coffee?  I'm still completely amazed and bewildered by the huge amount of actual words that are coming out of my almost three year old's mouth.  Real-life sentences, that show exactly how my son's brain works.  Which worries me a little, when he says:
"Mommy, can I take my head off?"
"Daddy, lay down on the ground so I can rescue you! It an emergency!"
"Did you see the ball?  Oh, it behind me!  Hey ball!"
Of course there's also the phrases that just.melt.me.  Like when he strays from only using one syllable for each word, and calls me "Mom-MEEE".  Or when he reaches over and touches my face and says "You look cute!".  Or when it's bedtime and he's rolling around under his Cars blanket singing "scra (scrambled) eggs and potaYO pancakes!".  He says "You BET!" in agreement, and can sing the entire Bob The Builder song and ALL of the ABC's.  And when I made a big show of squishing a spider the other day, he yelled over to me "Ma, can I EAT him??!"
It's impossible to be "heavy" when my little guy shines so much "light".