Just the important things:
It would be completely sacrilegious and unkosher to say that Purim is the new Halloween. So I won't. But Max's preschool goes big for Purim, and of course, Max never refuses a chance to be a fireman for the day.
They made mini hamantaschen, y'all.  How cute is that? And had a costume parade. The two year olds lined up for a class picture, and made silly faces, and then cried because they didn't want to take their costumes off. Good times, Purim-style.  Oh, and the fireman boots that we bought Max for Halloween?  Well, they fit now.  See?  There's something to be said for a religion that believes in dressing up 5 months after Halloween.
On a completely unrelated note, Max is officially old enough to start fucking with me.
Me: "Max, do NOT take the batteries out of that camera. I'm serious. If you take the batteries out again I will take the camera away."
Max: (singing) "Battawee, battawee….battaweeeeee…..baaaaatawee. Baaaatawee, baatawee!"
Me: "What are you doing?"
Max: "I singing the battawee song! You want to sing it with me Ma? Baaatawee, battawee!"
Between the cuteness and the sass, I'm usually feeling like I've been hit by a truck come Friday.
Thank god for "family dates" each weekend.  Like this one….
It's nice to be able to call in the reinforcements each weekend.  I mean, let's spread the parenting love.  There is soooo much sweetness to go around, and all.
Please take note of the very first "Ask your 2 year old to try on jeans in the Gap dressing room" event (below).  Very big.  Very brave.  Very "we have arrived".  A tip for you?  Bring snacks.  So when the cupcake that you smuggled in to the dressing room falls on the floor, you have reinforcements.  Not that it happened to us….or anything.
Another tip?  Continuing to buy your skinny toddler size 2T pants because pride says that's what an almost 3 year old should wear?  Dumb idea.  Let's be honest folks, the kid needs size 18-24 months.   Once I gave in, the fashion possibilities were endless.  And he still wears a 2T shirt….example below.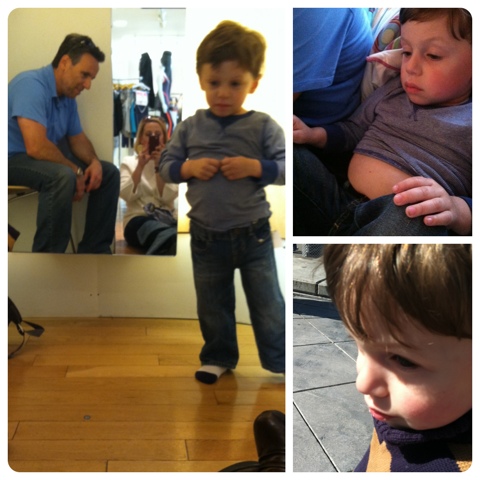 Hope your weekend was full of pants that were the right size, cupcakes, and lots of dress-up.  Peace out.