We call ourselves Logan's Army.
We are mothers.  We are writers.  We are strangers and friends, and we came together for one little boy.
His name is Logan Wight, and he passed away this past Saturday.  He was 5 years old.
Logan's mom Sherry writes a blog.  I don't know her.  Not in the "know" her, know her sense.  She lives with her family in the same community that we used to live in, before we moved to our City By The Bay.  And when Logan was diagnosed with Cancer, she let everyone in the Mother's Club know that they could stay updated on how he was doing through her blog.  She wanted to tell his story in a way that was true to him, and true to her family.  What she ended up writing in that sacred space over the last 18 months has changed my life.  And not just my life, but the lives of hundreds (probably thousands) of people who followed Logan's brave journey.
For those of you who don't blog (and yes, I'm using "blog" as an action word on purpose), you might think that feeling like you "know" someone through their blog is strange.  But it's not strange at all.  Sherry is me.  Sherry is you.  Logan could have been any of our little boys, and Sherry led us in praying for him, hoping for him, and lifting their family up.  We became Logan's Army, spread across the country, many of us never having met him, but feeling like we knew him, as Sherry introduced us to his enormous smile and his spunky little spirit.  We cheered him on when he beat the odds of a dangerous surgery.  We showered him with prayers when Cancer treatment hurt his little boy body.  We smiled when Sherry talked about how he would charm the nurses.  We breathed sighs of relief when we heard that Logan was home with his siblings, lining up his cars in the living room.  And we dropped to our knees and cried out to God when Sherry posted on FaceBook this past weekend that Logan's health was rapidly declining.
Not Logan.  Not now.  Not this family.  I thought, as the tears streamed down my face.
Sherry parented three other young children while Logan was sick.  Sherry carried her tiniest little one in her belly when Logan was first diagnosed.  Sherry mothered, and was a partner to her husband, and she fed her children and she took them to dance class and she drove back and forth to the hospital, and she put one foot in front of the other and she kept going.  She loved Logan with a fierce mama's love, through every test and every surgery.  Her love carried her family through the last 18 months, and surrounded her brave boy on every step of his journey.  Sherry showed all of us the power of a mother's love.  Logan showed all of us just how brave a small, sweet boy can be.  I am forever changed by knowing Logan's story.  The way that I mother my son is forever changed by the way that Sherry mothered Logan.
I know that many of you have been a part of Logan's journey too.  I've talked about him here, and you have joined me in sending prayers across the miles to the Wight family.  Sherry's blog has been linked over there on the right for quite some time now.  Remember how I've told you that I blog to feel a little less alone?  And so that sometimes, maybe some of you will feel less alone?
Now it's time to let Sherry know that she is not alone.
My friends, please visit Sherry's blog, and let her know who you are.  Let her know that you were cheering Logan on too, and that you will be part of the army that lifts her family up in love as they grieve the loss of their beautiful boy.
Sherry has asked that we honor Logan by remembering his laughter and his ability to really have fun.  She wants us all to do something with our families, our children, that shines brightly up to heaven so that Logan can see us remembering him with joy.
It's laughter, for Logan.  It's dancing, for Logan.  It's hugging your babies extra tight, for Sherry and her husband Adam.
When you do something special, please visit Sherry's blog and leave a comment to let her know.  Let her know that Logan's army is lifting them up.  Let her know that you are remembering Logan with love and light.
Yesterday our family went to a park in San Francisco that has enormous slides.  Max (who is usually afraid of slides) squealed with delight as he flew down in Daddy's lap.
We celebrated joy and remembered Logan in a big way by dancing with a few hundred other toddlers at The Fresh Beat Band concert.
And we celebrated Logan's laughter in smaller, quiet ways. Like Max tickling his own foot by driving Thomas the Train over it in his car seat. And then laughing hysterically. Simple. Small. Beautiful laughter, for Logan.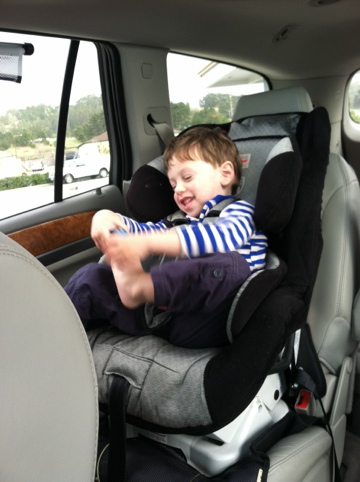 Sherry, Adam, Abby, Isaac, and Baby Brady, our thoughts and prayers are with you today, and for the hundreds and thousands of days to come.  Thank you for sharing Logan's light with us.  Your family is now part of all of our families.  We are lifting you up in prayer and strength, and covering you with love.  And we are laughing.  And dancing.  And finding joy where we once may not have taken the time to see it.  For Logan.  For you.  With love.